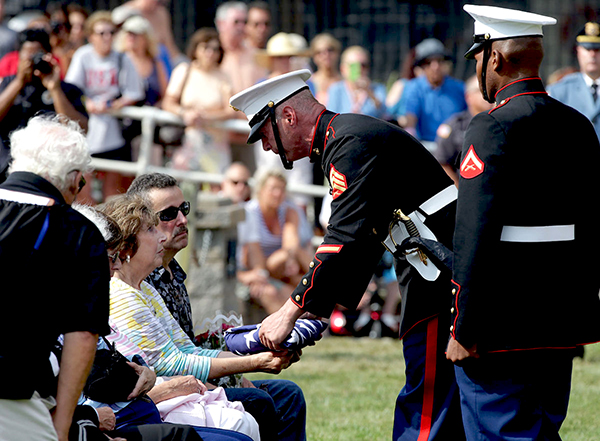 Last Salute was honored to appear at Atlantic City's 9-11 Memorial Ceremony on September 11th 2016.  The elaborate ceremony included many Police officers and Fire fighters.  The National Anthem was sung by Miss America and Atlantic City's Mayor was Master of Ceremony.
Last Salute fired the "Jaime Lee", our Civil War cannon twice.  Our rifle squad fired multiple times as well.
Sgt. at Arms Chuck Knutson and Lcpl Kyle Ragland folded and presented a flag to Mrs. JoAnne Saracini whose brother was a pilot on one of the planes that crashed into the World Trade Center, United Airlines 175.  He was a former Navy Pilot that then flew for United Airlines.
SARACINI VICTOR J., age 51, Captain of United Airlines Flight 175, died on Tuesday, Sept. 11, 2001. Originally from Atlantic City N.J.,
We took a large number of photos and have posted about 130 here.