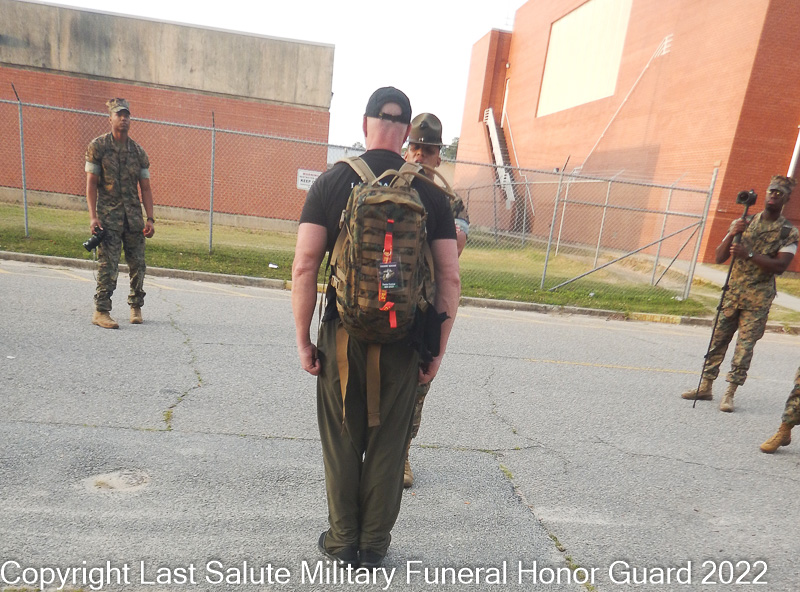 LAST SALUTE IS NOT FUNDED BY THE GOVERNMENT OR ANY OTHER ORGANIZATION AND DEPENDS COMPLETELY UPON YOUR SUPPORT. PLEASE DONATE TODAY.
On May 3rd 2022 at 0400 hours members of Last Salute military funeral honor guard were picked up at the honor guards headquarters by the United States Marine Corps and flown to Parris Island South Carolina, the legendary location of the Marine Corps "Boot Camp".
Last Salute and the Marine Corps joined together on a mission to honor all the fallen heroes placed into Last Salute's Prayer Box by their families.
Each and every prayer card, photo and keepsake including many dog tags were carefully placed into an "assault pack" (military back pack). The pack was carried for the next 5 days by a member of Last Salute.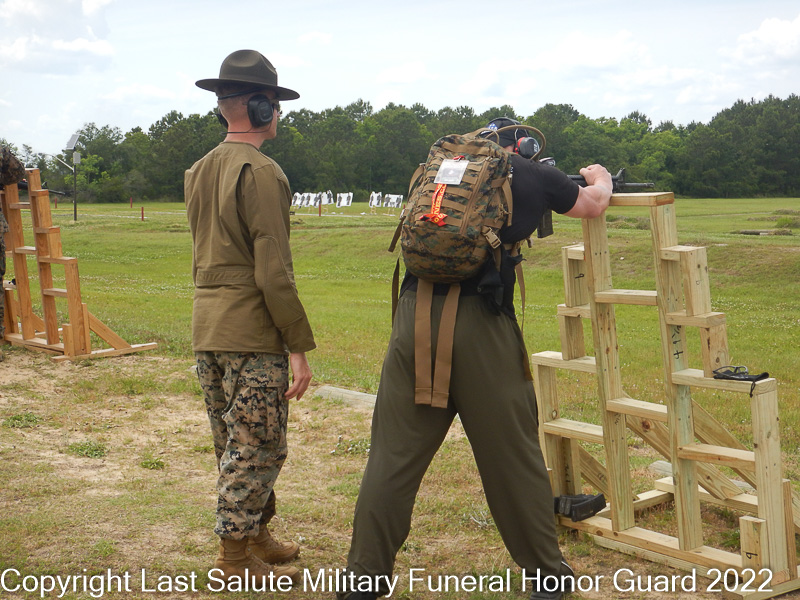 This was no ordinary simple visit to Parris Island. Last Salute and the Marine Corps wanted to honor the heroes from within the prayer box in a special way.
The assault pack and prayer box heroes were carried for recruit receiving, standing on the infamous "yellow foot prints", morning colors at the depot's headquarters, participation in rifle fire simulation with the new technology system, participation in live fire rifle qualification on "A" range, present at swim qualification instruction, carried over and though obstacles on the obstacle course, carried over or through more obstacles at the "crucible", carried through the gas chamber, present for "chow" at recruit training and Fleet Marine chow halls, present for honors at the officers club on Parris Island and the officers club aboard Marine Corps Air Station Beaufort South Carolina, carried across the flight deck and through hangars at the air station, present at the rappelling tower on Paris Island for instruction and display, walked through a number of recruit squad bays and barracks, both depot houses of worship and was even "knife handed" by a Marine Drill instructor. There were other events and exercises in which the assault pack was carried including the much dreaded "I.T." session (AKA "quarterdecked", "rose garden", "the pit", "intensive training"). The drill instructor showed little mercy as he yelled for more pushups, sit ups, jumping jacks (side straddle hops") and mountain climbers.
The visit to Parris Island concluded with attendance at a recruit graduation ceremony.
During the visit those within the prayer box were photographed and honored by many including the Commanding General and head chaplain.
Last Salute has made a solemn promise to carry forward and honor the many heroes which loved ones have placed into our prayer box. This visit to Parris Island and the air station are part of that commitment.
LAST SALUTE IS NOT FUNDED BY THE GOVERNMENT OR ANY OTHER ORGANIZATION AND DEPENDS COMPLETELY UPON YOUR SUPPORT. PLEASE DONATE TODAY.