Last Salute is the Official Military Funeral Honor Guard of Galloway Twp., Atlantic City, Tuckerton, Brigantine, Folsom, Linwood and Beuna but does not receive any funding from those entities.

LAST SALUTE IS NOT FUNDED BY THE GOVERNMENT OR ANY OTHER ORGANIZATION AND DEPENDS COMPLETELY UPON YOUR SUPPORT. PLEASE DONATE TODAY.





Do You Fire an Artillery Cannon at Every Funeral Honors Ceremony?
Yes, Last Salute possesses 2 Civil War artillery cannons that are used to honor our fallen. They have been fired by multiple Medal of Honor recipients, Congressmen, Senators, the Attorney General of The United States and many other dignitaries. You can read more about our cannons, the "Jaime Lee" and the "Mike D" plus see photos and video HERE
Do you provide services for all branches?
Yes we do. Last Salute is an all volunteer joint services Honor Guard. A joint service Honor Guard is the highest honor and we have veteran volunteers from all 4 branches.
Last Salute is a dedicated group of all volunteer military veterans committed to providing our fallen brothers and sisters with dignified and appropriate final services.
What do I need to request your services?
As with any request pertaining to military honors, we require proof of service. This is typically in the form of a DD 214 (discharge). If you need to obtain a DD 214 please use the appropriate link above.
Do I contact you directly?
You can contact us directly or have your funeral director contact us.
Is there a fee?
Last Salute does not charge for funeral honors but does rely solely upon donations. We are not paid or funded by any group or the government. Your generosity is greatly appreciated as it helps us to continue to provide these important services.
What does a Last Salute military honor ceremony include?
There are a number of honor ceremony levels to choose from. The standard Last Salute honor ceremony includes, One of our 2 "12 Pounder Mountain Howitzer" – Civil War cannons the "Jaime Lee" or the "Mike D" will fire a single volley, the tolling of our memorial bell 3 times, 3 volleys fired from the rifle team (when rifle team is available), the playing of Taps, the folding and presentation of a memorial flag.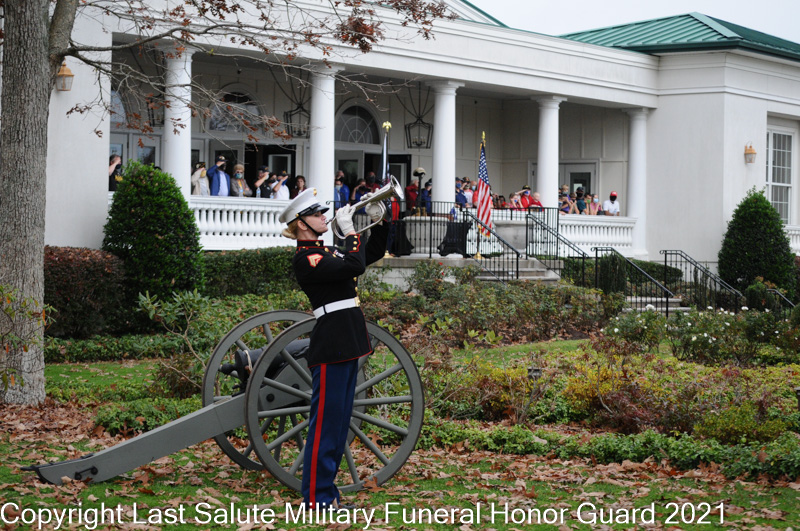 If you prefer, The basic honor ceremony includes the playing of Taps followed by the folding and presentation of a memorial flag to the next of kin.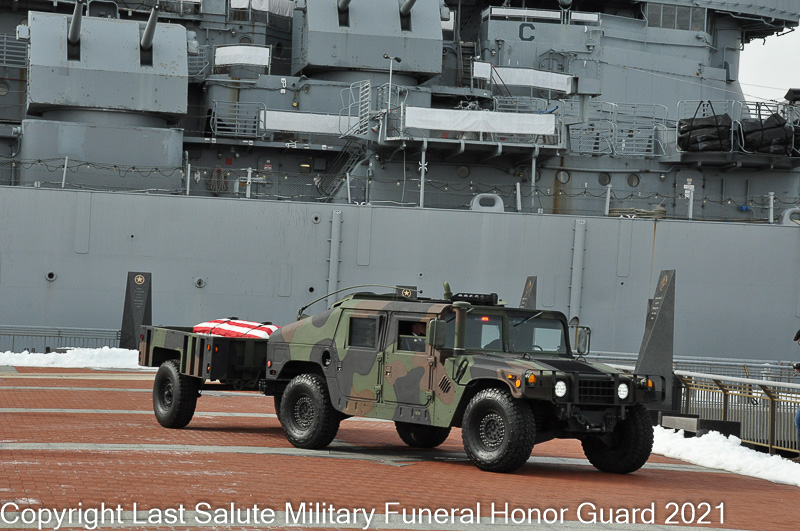 The most elaborate service includes the addition of military vehicle transport (Caissson) from the church or funeral home to the cemetery. This is done using a late model up armored military slant back Humvee which is equipped with a machine gun turret and M1102 artillery trailer adapted for carrying a flag draped casket. This option is also available for urns as we have a modified urn casket. At Arlington, a horse drawn artillery trailer is used. The practice of honoring a fallen warrior in this way started in the Napoleonic Wars. The cannon's ammunition (powder) resupply trailer was used.
The most moving part of a Last Salute honors ceremony is the "Prayer Box", a perpetual caisson. It is part of every ceremony we conduct. Please read about it at the link below.
Do you provide flags?
Your funeral director should provide a flag. If you have any problems obtaining a flag please let us know.
What areas do you serve?
Currently we conduct services primarily in Atlantic County NJ. In some cases we will travel to Cape May County Veterans Cemetery depending upon which funeral home you are working with. We will also potentially provide service to lower Ocean County and parts of Cumberland County. We only have so much manpower and must also take into consideration the cost of travel. A Humvee pulling a trailer with a cannon in it requires more fuel and is charged more for tolls. We are working hard to expand services and have even ordered a second cannon to start a second detail.
Can I find out what families think about your organization?
You can read some of the many letters that we are extremely honored to receive HERE. There are also some online comments HERE.
Do you work with other Honor Guards?
We will not provide "double honors". If there is an Honor Guard already scheduled to conduct services for you, they will be the sole unit detailed to your funeral service. If you would like us to include members of another veterans service organization such as the VFW or American Legion, we will be happy to do so. We often include uniformed family members to make the service more personal. We also will include fire or police units. In the event that we include anyone at all, they must follow our directions and all commands given on the field. We do not modify the order in which the ceremony components are rendered or change any protocol.
Does Last Salute ever refuse services?
Last Salute reserves the right to refuse to provide services for any reason without explanation. Typically services are approved unless the condition of discharge does not warrant approval or there is a scheduling conflict.
Will Last Salute appear at my event?
Last Salute's primary mission is to provide military funeral honor ceremonies. We do occasionally appear and assist with events that honor veterans and/or first responders. Last Salute will not appear at any event to promote, enrich or further any person, political party, commercial business or service. This is non-negotiable. If you would like to ask us about your event, email [email protected]
Focus On The Mission: Our mission is to honor the fallen and comfort their families. It is in their memory that we conduct these final honors. Last Salute focuses its ceremonial honors with deep respect for our fallen brethren and their service. All aspects and details of our ceremonies are a humble tribute to the honorable service of those we honor. Just as the "Tomb Guard" at the Tomb of The Unknown Soldier in Arlington wears no rank so that no guard outranks those they honor, Last Salute's Sgt. at Arms Chuck Knutson wears no ribbons or medals in deference to the distinctions awarded the fallen. The Sgt. at Arms states, "we must humble ourselves before the mission and appear plain but professional. The focus must be on the final act of presenting the memorial flag and not on a colorful distracting display as I present this final honor".
Please keep in mind: that Last Salute is an all veteran all volunteer organization. We are not paid at all and do these services to honor our fallen and comfort their families because we care deeply about the military service they performed. We ask that you respect the process and our commitment by being punctual as our members dedicate many hours to provide these ceremonies.
Important: You must be very clear with your funeral director that you have chosen Last Salute to conduct military honors for your loved one and that they should not contact or schedule anyone else. You must also be clear that they are not to interfere or impede with the honors ceremony. Tell them that you expect them to conduct themselves in an appropriate and respectful manner. We work with many funeral homes and they are incredibly dignified and thoughtful people who want you and your family to be able to honor your loved one as you wish. It is extremely rare that a funeral director interferes with the Honor Guard. It is only addressed here to insist that our personnel are treated with the respect which they deserve.
Last Salute is the Official Military Funeral Honor Guard of Galloway Twp., Atlantic City, Tuckerton, Brigantine, Folsom and Beuna but does not receive any funding from those entities.
LAST SALUTE IS NOT FUNDED BY THE GOVERNMENT OR ANY OTHER ORGANIZATION AND DEPENDS COMPLETELY UPON YOUR SUPPORT. PLEASE DONATE TODAY.