Last Salute military funeral honor guard is extremely honored to have autographs from America's real heroes in the Humvees that are used for the many military funerals Last Salute conducts each year. The "Gun Carriage" Humvee now has 10 Medal of Honor recipient signatures, and the "Caisson" Humvee has 7.
The "Gun Carriage" Humvee is pictured above. 10 (ten) Medal of Honor recipients have signed the dashboard in Last Salute's Military Gun Carrige Humvee. The gun carriage HMMWV has completed more than one thousand ceremony missions and transports all necessary equipment to conduct the Last Salute ceremony including a Civil War cannon which is fired at every ceremony.
The "Caisson Humvee is pictured above. 7 (seven) Medal of Honor recipients have signed the radio tower (dash) in Last Salute's Military Caisson Humvee. The Up Armored Slantback with machine gun turret, military HMMWV and M1102 Artillery Trailer proudly conduct dignified transfer (transport) of fallen heroes to their final resting place.
These heroes all want to help honor our veterans. They are a great group of men and continue to engage and support society through many community service programs and charities. Here are some of them signing the Humvees……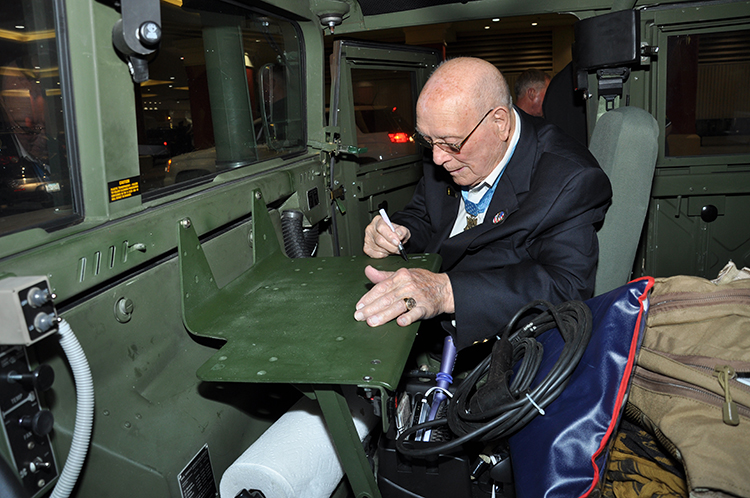 Hershel "Woody" Williams (image above), the last WW2 Medal of Honor recipient signed both Humvees.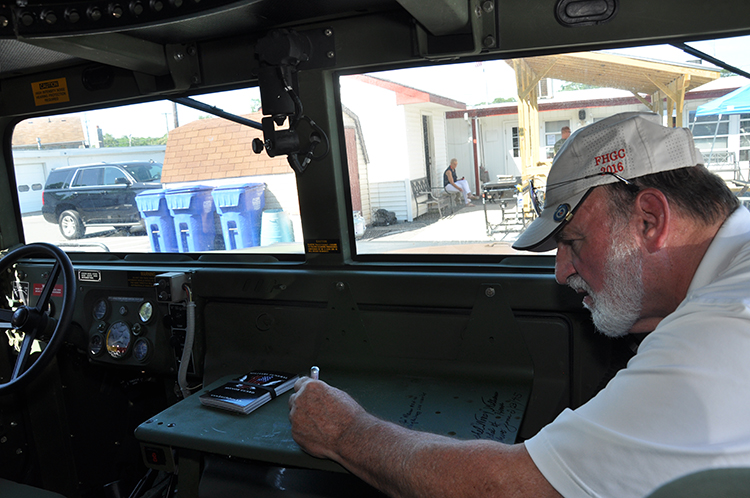 If you have the time, you should check out each of these men's Wikipedia page to see the amazing heroics each displayed which resulted in them being awarded our nation's highest honor. These are truly legendary heroes that are a significant part of American history. We are humbled by their sacrifice and service.
Last Salute would like to acknowledge the generous and ongoing support of David the "Hummer Parts Guy". He keeps these incredibly important and unique military Humvees operational.
We were also honored to have "Woody", Robert Patterson and the other heroes fire our Civil War cannons, the "Jaime Lee" and the "Mike D".