This page is dedicated to honoring a fallen hero and his service to our nation.
THE PHOTOS ON THIS PAGE ARE PROVIDED AS A FREE SERVICE TO THE FAMILY OF THOSE WE HONOR.
UNAUTHORIZED USE OF THESE PHOTOS IN ANY FORM IS STRICTLY PROHIBITED.
All images and or video is copyrighted and may not be used for any purpose without prior written consent.

Stand tall young brother….
You are wearing your best Dress Blue uniform as you have been entrusted with a most sacred mission. You are to report to our most important checkpoint and post guard at the gates of Heaven.
You will stand your post with legendary brother Marines. You are now a member of the Marine Corps most decorated and fearsome unit.
We rest easy knowing that you hold vigil for us. You will secure your post and never surrender your position. You will check in each Marine as they arrive.
Stand tall young brother….. you are the beacon helping us all find our way home..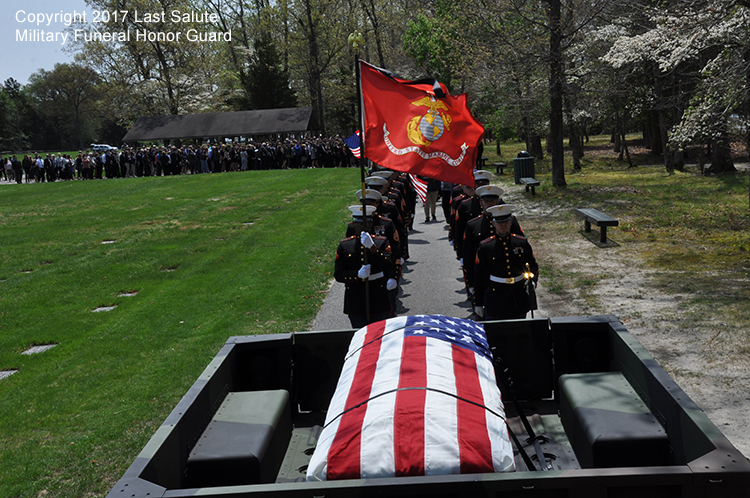 An enormous crowd gathered to pay final respects to PFC Tyler Wechsler. The video below is an uncut version of the last part of the ceremony.
PFC Wechsler funeral – Sunday 1 May 2017 0900 – Atlantic C0unty Veterans Cemetery
LAST SALUTE IS NOT FUNDED BY THE GOVERNMENT OR ANY OTHER ORGANIZATION AND DEPENDS COMPLETELY UPON YOUR SUPPORT. PLEASE DONATE TODAY.