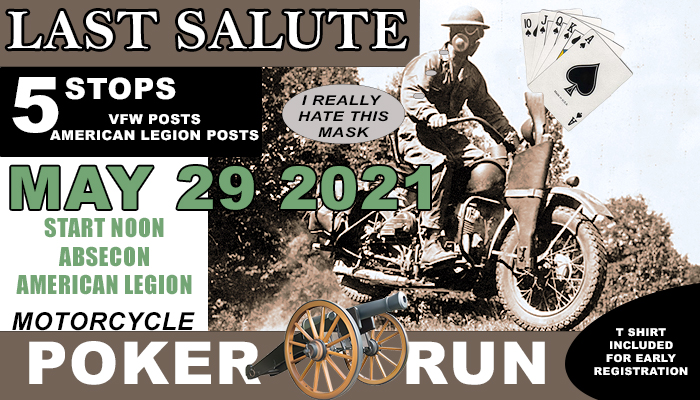 EVENT STARTS AT ABSECON AMERICAN LEGION POST AT NOON SATURDAY MAY 29TH…..
Last Salute hosts an annual motorcycle rally (cars are welcome too) to raise funds used for continuing our mission of providing free, professional and elaborate military funeral honor ceremonies for our area's fallen veterans and active duty personnel.
In previous years the rally included commercial establishments but this year we decided that turning the rally into a poker run to also help VFW and American Legion Posts made much more sense.
It is a much better event now that it will benefit many veteran service organizations. The registration fee (after expenses of food, T-shirts and prizes) will go to Last Salute military funeral honor guard. Any beverages purchased at any of the posts will directly benefit the post at which it was purchased. All the posts have operating canteens (bars).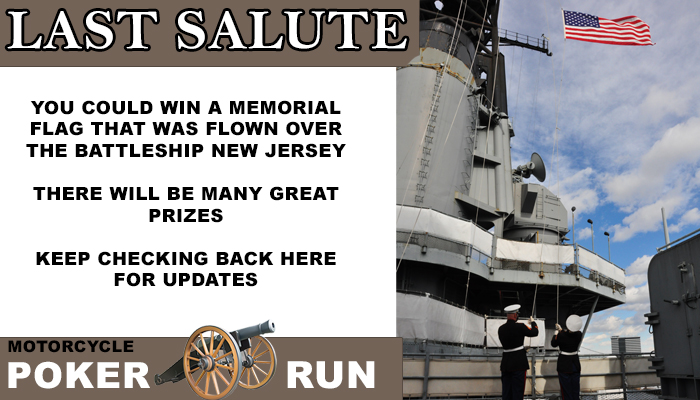 Early registration (prior to April 30, 2021) will include a T-shirt as part of the fee. You must tell us the desired size in the comment portion included as part of the Paypal payment procedure or email [email protected].
Registration after April 30th will not include the shirt for free. Shirts will cost $10 from May 1st through May 10th. After May 10th shirts will be for sale at the event for $15 with sizes subject to availability.
Entry fee of $28.00 includes registration for one person, a T-shirt (XXL & XXXL cost $2.00 More), a buffet meal at the last stop and one American flag (medium on wooden pole for bike mounting) Questions?????? Call 609-780-7432
Use donate button below to register.
There will also be a silent auction at the last stop with many great items!!
If you have a large number of riders to register please call to save yourself time.
Rules: All riders must have currently and properly registered and insured vehicles and/or motorcycles, all riders must follow instructions from event personnel as well as obey all traffic laws, any violations of rules or laws or bad behavior is cause for immediate ejection from the event and will result in forfeiture of any and all fees paid by ejected person. All entrants agree to behave in an acceptable manner, you must be respectful and well behaved, remember why you are participating, this is a NO COLORS event with the exception of veterans groups directly affiliated with a registered veterans service organization with prior permission from event organizers, you are responsible for yourself during this event and will act accordingly, you agree to hold completely harmless Last Salute a registered 501C3 and all of its board members and general members, you further agree that Last Salute its board and its members are only organizing the event, you agree that this event which is referred to as a poker run IS NOT a game of chance and that you will be required to complete a "skill" portion of the event to qualify for any prize, prizes have no cash value and may not be exchanged or returned for value, you also agree that you must present your score sheet(s) prior to drawing a card and may not choose to assign any card to any specific sheet, one card per score sheet will be drawn at each location, in event of a tie a high card draw will decide the winner, assigned judges will make rulings and all rulings are final, you agree that you completely read, fully understand and without reservation agree to all of these rules.
LAST SALUTE IS NOT FUNDED BY THE GOVERNMENT OR ANY OTHER ORGANIZATION AND DEPENDS COMPLETELY UPON YOUR SUPPORT. PLEASE DONATE TODAY.