Military Honors for Roy Groves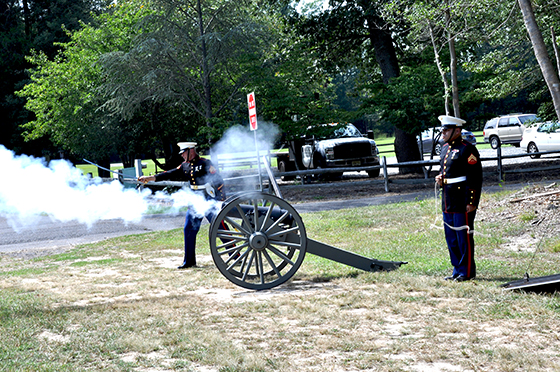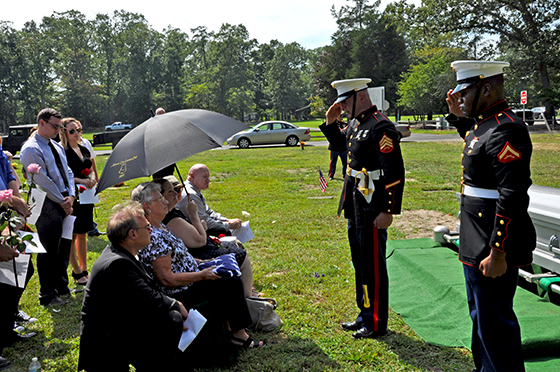 Military Honors Ceremony for Paul Petrella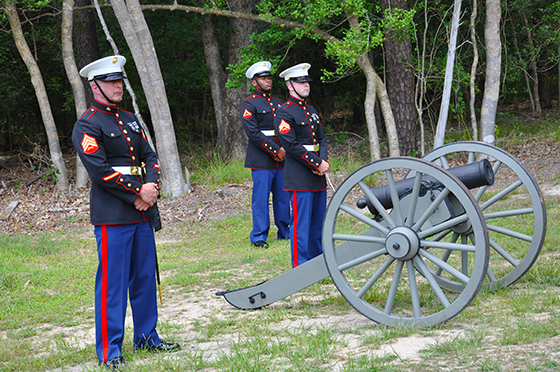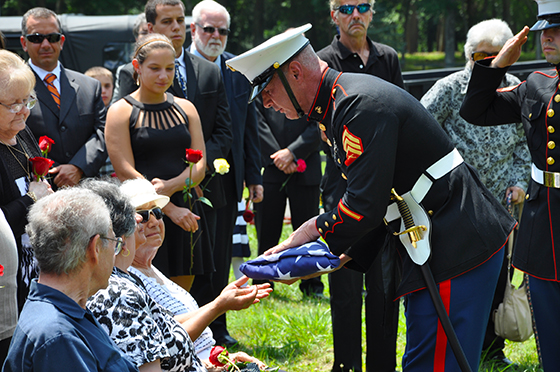 Military Honors Ceremony for Marie Stuckel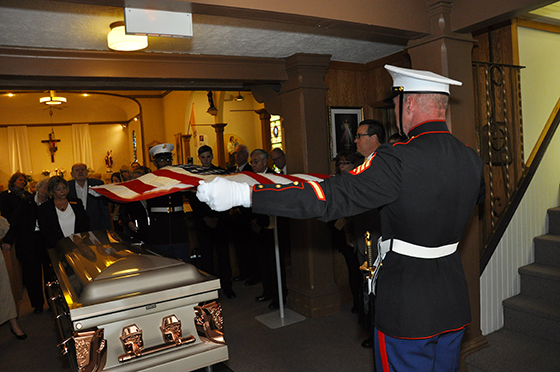 Military Honors Ceremony for John Toltowicz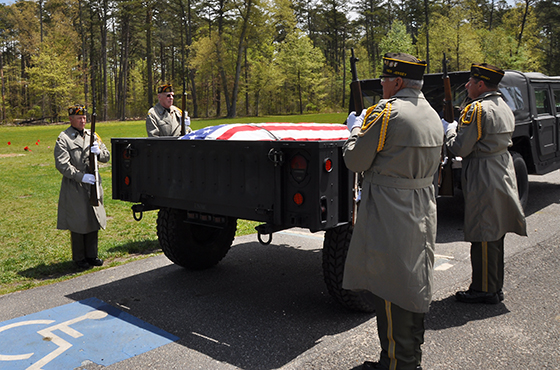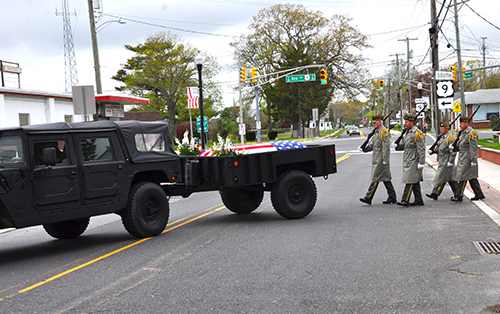 John R. Eiseman, Jr.
John was a 20 year veteran of the US Army, serving during the Vietnam War. He earned his Bachelor Degree in Teaching after his discharge, through the GI Bill. He worked several years as a substitute teacher. He enjoyed classical music, was a history buff and had a love for animals of all types. He was a long time member of the First Presbyterian Church of Clayton.
Roger Arlan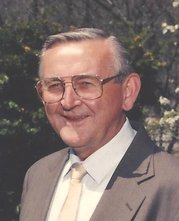 ARLAN, ROGER W. – of Galloway, passed away on April 26, 2016 at his home, surrounded by his family. He was born April 1, 1938 to Elizabeth and Harry Arlan. He was predeceased by his parents; his brothers, Harry and John Arlan; his sisters, Elizabeth Creveling, Beatrice Shade, and Dottie Booth; and his grandson, Brandon Seelig. Roger served his country in the US Navy from 1956 until 1960. He joined the Pleasantville Fire Department in 1960, where he rose through the ranks and became Fire Chief in 1980. He retired in 1992 with 31 years of service. He was chosen as NJ Fireman of the Year in 1973. He wrote the Pleasantville history book "Pleasantville Early Days 1888-1988", and chaired the year long centennial celebration. He enjoyed camping, fishing, and traveling in his motor home. He is survived by his loving wife, Alice (nee Olsen); son Roger, Jr. (Carol); daughter Jean Bell (Steve); stepsons John Foster and Eric Foster (Amy); stepdaughter Karen Foster; grandchildren Katie and Emily Bell, Ryan Arlan, Tara Quigley, Erica Seelig, and Evan Foster; his sister, Gloria Morgan; and four great grandchildren. A funeral service will be held on Saturday, April 30th at 12:00pm at Adams-Perfect Funeral Home, 1650 New Road, Northfield. A viewing will be held from 10:00am until the time of the service. Burial will follow in Mt. Calvary Cemetery, Egg Harbor Township. Contributions may be made in Roger's memory to the Disabled American Veterans Dept of New Jersey 135 W. Hanover St. 4th Floor Trenton, NJ 08618 or visit DAVNJ.org. Arrangements entrusted to and condolences may be left for his family at: adams-perfect.com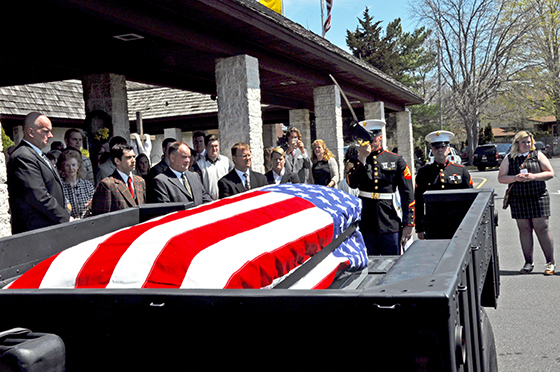 KERRIGAN, JAMES P. (PopPop/Breezy) – 89 of Absecon, shared his last joke on April 15, 2016. Born in Mahanoy Plane (The Foot) on July 30, 1926 to James P. and Anna B. He was a USMC veteran of WWII serving aboard the USS Pasadena in the Pacific. Member of the Knights of Columbus 3rd and 4th Degrees. Past Cmder Catholic War Vets Christopher, Post 1147. Member of the U.S. Seagoing Marine Assoc., Marine Corps League, American Legion, V.F.W. Post 9462 and the Inlet Social Club of Atlantic City. He attended Penn St. University. He was an avid fan of TMC and loved performing with Show-Makers. Although his dream to perform on the big stage eluded him, his greatest performance was being husband to Anna, dad to Mary (Bob), James, Theresa (Tom), Eileen (Steve), Kathleen (Tom), Brigid (Steve), Stephen (Jen), Martin (Autumn), Kieran, George (Angela) and PopPop to 26 grandchildren. He is also survived by sisters Helen and Adeline (Felix), sister in law Eiling Farelly and dear friend Sally Piccardo. Predeceased by his wife, parents, brother, Francis, sisters Patricia, Anna Marie and May Mary. Viewing will be 8:30am to 10:45am on Tuesday, April 19, followed by a mass of Christian Burial at St. Elizabeth Seton in Absecon at 11:00 am. In lieu of flowers please make donations to the Knights of Columbus Villa Marie Council 6342. For online condolences, please visit www.parselsfh.com.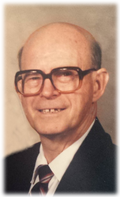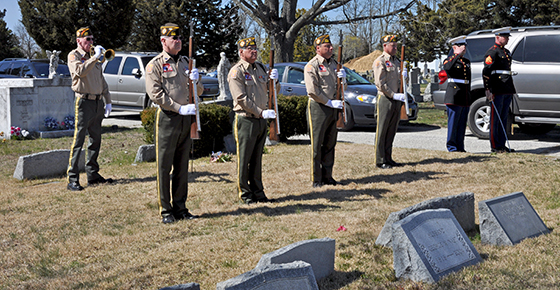 GOODEN, ALFRED G., JR. – 90, of Atlantic City, passed away on A pril 12, 2016, at Veterans Memorial Home of Vineland. He was a lifelong resident of Atlantic City. He was an Atlantic City Lifeguard before serving in the United States Navy, in World War II. After the war, Alfred worked for Abbotts Dairy for many years. He was dedicated parishioner of St. Andrews by the Sea Lutheran Church where served as an usher and was involved in many facets of the church. He was always smiling and was a tremendous caregiver for his family. He was predeceased by his daughter Mary Ella Gooden; sister, Mary Kaszyk; and brother, Charles Gooden. Alfred is survived by his loving wife of 70 years, Ida Virginia Gooden; son, Alfred Gooden, III; daughter, Ida May Colucci; grandchildren, Steven Gooden, Sr. (Michele), Cathy Colucci, Paul Colucci; great-grandchildren, Steven Gooden, Jr and Justin Gooden. A gathering of family and friends will be from 1:00 pm 2:00 pm, on Saturday, April 16th, at Adams-Perfect Funeral Home, 1650 New Rd, in Northfield. A memorial service will follow at 2:00pm. Burial with military honors will follow at Atlantic City Cemetery, in Pleasantville. Arrangements entrusted to and condolences for the family may be left at Adams-Perfect.com

KASPARIAN, CHARLES HOWARD – 73 of Somers Point, NJ passed away at Shore Medical Center. He was a native of Philadelphia, PA and a lifelong resident of this area. He was preceded in death by his parents, Charles Kasparian and Ruth Rasmussen. He is survived by his wife, Pat Verruno-Kasparian; children Anthony Cipriano (Michelle), Michele Storr (Ernest), Brandy Stanley (Robert), Kathleen Kasparian; grandchildren Zack, Shane, Nikki, Jack, Gabrielle, David and Daniel; great granddaughter Kyliegh; uncles Robert Rasmussen and Casper Kasparian; and a close friend Thomas Rogers. He was a US Army Veteran of the Vietnam era. He was a life member of the Longport Post 469 American Legion and past Atlantic County Commander and was a Past State of NJ Vice Commander. He was a free Mason, Shriner and Knights Templar of the the Trinity Lodge of Egg Harbor Township. On October 5, 2003 that day was named the Charles Kasparian Day for Atlantic County. He enjoyed cooking, photography and gardening, and spending time with friends and family and especially his grandchildren and daughters. He was a long time employee of the casino industry and more recently the Golden Nugget as a banquet server. A service will be held on Monday, April 4, 2016 at 11:00 AM at Adams-Perfect Funeral Home, 1650 New Road, Northfield, NJ 08225. The family will be receiving friends from 9 AM until the time of the service on Monday at the funeral home. Interment will be held at the Atlantic County Veterans Cemetery, Estell Manor. In lieu of flowers, memorial contributions can be made to the Longport Post 469 American Legion P.O. Box 441 Longport, NJ 08403. Arrangements by and condolences at www.adams-perfect.com.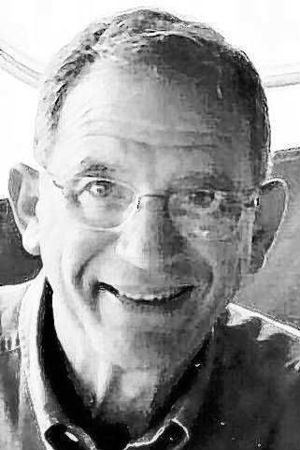 SBROLLA, ALBERT L. – age 80, of Egg Harbor Township passed away peacefully on Holy Saturday, March 26th. Born and raised in Atlantic City, he was proud of his Catholic education, attending St. Michael's Elementary School, Holy Spirit High School (Class of 1953) and LaSalle College before proudly serving his country in the United States Navy and Naval Reserve. He then began a lifelong career at Prudential Insurance Company where he worked until his retirement in 1990. He was a self-taught craftsman as well as an active person who enjoyed the outdoors immensely; participating in bocce, canoeing, and tennis. AI was a proud member of The Sons of Italy, a Eucharistic Minister at St. Bernadette's Church and in his retirement years, an avid bike rider. He was predeceased by his parents Maria and Luigi and his beloved wife Judy. He is survived by his loving wife Diane; his children, Laurie (Ross Acchione), Maria, and Alberto (Nancy); his sisters, Natalie Mandrack and Florence Pennachetti; his grandchildren, Giulia, Sofia, Lucio Acchione and Alberto & Nathan Sbrolla; nieces and nephews; his many cousins in Italy. He is also survived by his wife's children, Scott Hardcastle and Pam Hardcastle-Gerety (George), grandchildren Lindsey Herthum (Kurt) and Savannah Hardcastle and one great-grandchild, Matthew Herthum A Mass of Christian Burial will be celebrated, Saturday 11AM at Our Lady of Sorrows Church, Linwood, with the viewing beginning at 10AM. Burial will be at Holy Cross Cemetery, Mays Landing. In lieu of flowers, donations may be made to the, Lewy Body Dementia Association, (www.Lbda.org) 912 Killian Hill Rd .S.W., Lilburn, GA. 30047 or Alzheimer's Assoc. National Office (www.alz.org) 225 N. Michigan Ave., FL. 17, Chicago, Il., 60601. Arrangements by the George H. Wimberg Funeral Home (ghwimberg.com)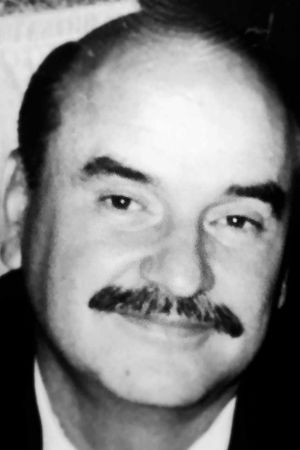 CESAR, JOHN "Jack" – of Absecon, NJ went to be with the Lord on March 23, 2016. Jack was predeceased by his father Charles, his mother Ruth and his brother Chris. Born in Oceanport NJ Jack spent most of his life in NJ. Jack was always a "volunteer" at heart. He started his career by obtaining the status of Eagle Scout with the Boy Scouts. He was a member of the American Legion Post28, the V. F. W. And D.A.V. In addition he was a tour guide at the New Jersey Vietnam Memorial in Holmdel, N J. Jack was also instrumental in the start of the Veterans Day program in the Absecon school. Jack graduated from Syracuse University with a degree in civil engineering and forest engineering. He was a helicopter pilot in Vietnam and continued his flying career by working for the FAA as a flight inspection pilot. Jack was married to his wife Joyce for forty years. They have one son John and several nieces and nephews as well as great nieces and nephews. Viewing will take place at Adams Perfect Funeral Home, 1650 New Road Northfield, NJ 08225 on Monday March 28 from 5:00pm til 7:00 pm, with a service to follow. Burial will take place at Arlington Cemetery, Washington D C at a future date. More information to follow. In lieu of flowers contributions can be made to the New Jersey Vietnam Memorial Holmdel, NJ. Arrangements by and condolences at www.adams-perfect.com.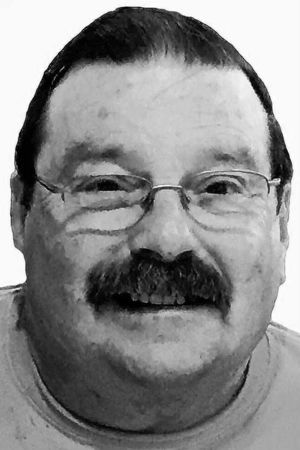 REED, THOMAS E. SR. – 70, of Mays Landing passed away March 23, 2016 after a courageous battle! Dad grew up in Camden and worked all his life in Gloucester mixing compounds and later supervising others at PRC later known as Pittsburg Glass. Dad was a lover of the sea. He served honorable time in the US Navy aboard the USS Oglethorpe, before settling down with his former wife Diana Reed-Meischker and having four children. He loved fishing and was happiest on the boat with his son Tom captaining. They have many funny stories of their fishing escapades. Dad liked to crab and he passed this on to Joe who still takes his kids crabbing in hopes of catching dinner. Rebecca, his youngest, has the memories of a man who loved her unconditionally! He read "Green Eggs and Ham" so often to her that he nicknamed her Sam! As the oldest Michelle probably remembers the most – a man who loved as best he could, who was stubborn and ornery but generous to a fault. His life was well lived. His multiple health issues challenged him daily but he met each one with fight and vigor. Dad will be missed by: daughter, Michelle Reed-Earle husband James Earle and children Sierra and Kaylyn Duffy; son Thomas Reed Jr. and fiancee Nicole May; son Joseph Reed wife Linda Reed and their children Julie, Samantha and Joey Reed; daughter Rebecca Reed-Geese husband Jerry Geese Jr. and their children Jerry Lee, Jessica and Jocelyn Geese. Dad had many friends in the community, many we may not even know, so we'd like to thank all who knew our Dad and loved him as he was!! Services will be private. Donations can be made on Dad's behalf to: Arbor Day Foundation at www.arborday.org (trees in memory); Atlantic County Special Services School, 4805 Nawakwa Blvd, Mays Landing, NJ 08330, (Dad loved visiting the Black Forest Cafe ran by the students); or the Brigantine Mammal Stranding Center at www.mmsc.org. Info. & Condolences at www.boakesfuneralhome.com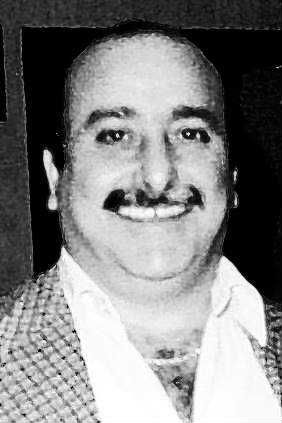 GIORNO, RADOLPHO "Rudy" J. – age 76 of Folsom, NJ passed away peacefully with his family by his side on Friday March 11th at his daughter Kelly's home. Born and raised in Hammonton, NJ, Rudy graduated from Hammonton High School and went on to serve his country in the U.S. Air Force. He worked for Kessler Manufacturing and Bayside Correctional Facility for many years as a clothing cutter. He was a member of the Sons of Italy Giuseppe Garibaldi Lodge # 1658 of Hammonton, NJ, the Absecon V.F.W. Post # 9462, the Elks Lodge # 2845 of Galloway and a longtime member of Little Mill Country Club. Predeceased by his son Rudy, his parents, Salvatore and Lucia Giorno; two brothers Mario Giorno and Armando Giorno; two sisters Sarah Crane, and Concetta Giorno. Surviving are his son, Salvatore Giorno, Sr. ( Michelle ) of Hammonton, NJ, and 2 daughters, Kelly- Jo Giorno Giamporcaro( Carmen ) of Blue Anchor, NJ and Lucille Giorno DelGuercio ( Paul ) of Elm, NJ. The mother of his children, Josephine "Chickie" Giorno. Loving grandfather of Alexis and Amanda Giamporcaro, Samatha and Salvatore Giorno, III, Nadine and Jacqueline DelGuercio. Great Grandfather of Michael and Tony DelGuercio, Bella and Rachael Perona and Sophia Giamporcaro. Family and friends are invited to attend his viewing Monday evening from 6:00pm – 8:00pm and Tuesday from 9:30am – 11:00am at the Marinella Funeral Home 102 N. 3rd St. Hammonton, NJ. Services will be held at 11:00:am. Burial will be in Greenmount Cemetery 124 S. First Rd. Hammonton.NJ.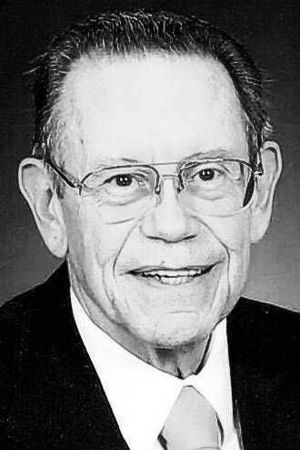 DAVENPORT, CHARLES WILLIAM (Bill) – 75, of Absecon, passed away at home, surrounded by his family on March 9th. Born in Woodbury, he resided in Hammonton and Smithville before moving to Absecon in 2007. He was a graduate of Hammonton High School, class of '58 where he excelled in football and basketball for the Blue Devils. He proudly served his country for 8 years in the US National Guard attaining the rank of staff sergeant, during the Vietnam era. Bill owned the Davenport Insurance Agency in Hammonton for 40 years. He was later employed at Boscov's Men's Suits Dept. Store in Egg Harbor Twp. for 8 years, until his retirement. While residing in Hammonton, he was an active member of the Hammonton Lions Club and Rotary Club. He served as president of the Hammonton High School Band Boosters. Currently, he was a member of the Absecon Presbyterian Church where he served as a trustee and choir member. He was also a proud member of the American Legion, Post 28, in Absecon. He is predeceased by his parents, Charles and Doris (Raab) Davenport. He is survived by his wife, Virginia (Hare); their children, Kathy (Gary) Quattrochi, Nancy (John) Masi and Charles (Chip) (Lisa) Davenport; and their grandchildren, Kelsey and Morgan Quattrochi and Will Davenport. He was a loving husband, father and grandfather and good friend to many. His memory will be cherished by those who knew him. A memorial visitation will be 10AM to 11AM Saturday, March 12, 2016 at Absecon Presbyterian Church, 208 New Jersey Ave., Absecon. A service will immediately follow at 11AM . Burial will be private. In lieu of flowers, the family requests contributions to the Absecon Presbyterian Church Building Fund, at the above address.
Edward Simpson, Korean War Marine Corps Veteran – January 20, 2016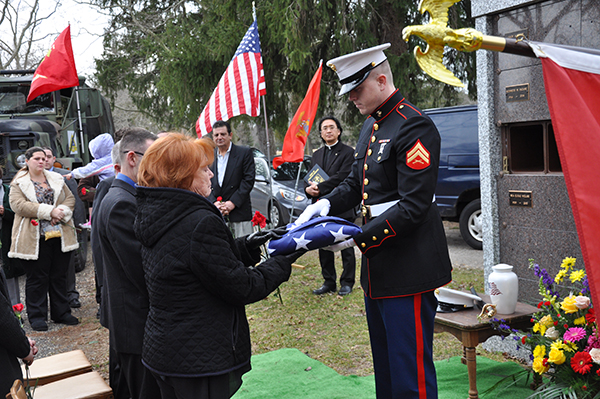 LAST SALUTE IS NOT FUNDED BY THE GOVERNMENT OR ANY OTHER ORGANIZATION AND DEPENDS COMPLETELY UPON YOUR SUPPORT. PLEASE DONATE TODAY.